【Speed is King!】Website acceleration target to customers around the world
Do you know how network speed has impact over your business? According to previous statistics, 47% of web users expect a webpage to be loaded within 2 secon, while 40% of people abandon a website that takes more than 3 second to load. The conversation rate to a webpage dropped by 7% for every 1 second of delay in website response time.
UDomain understand that our clients would never wish their Internet development to be hindered by network speed, thus, specially design our highly-secure Global CDN (Content Delivery Network). Through nodes distributed in different strategic locations around the world, the distance for data transmission to end users is effectively reduced. This not only saves users on website response time but also allows them to enjoy speedy, stable and smooth browsing experience. This also helps to raise the SEO ranking in Google searching.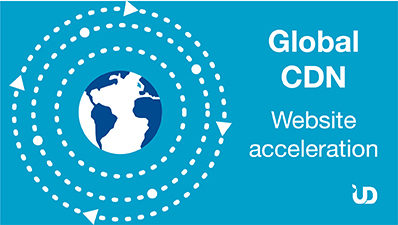 Benefits of UDomain Global CDN:
Control panel with simple management interface for you.
Diversification of traffic to different local nodes to reduce the traffic of origin server and save bandwidth cost.
Worldwide nodes plus 300Gb+ International bandwidth that can diverse the traffic and also diversify risk on server outage.
Pay-as-you-go pricing is charged based on actual traffic. Long term commitment or minimum traffic requirement is not required.
The real IP of website is hidden and lowering the chance of website exposed to DDoS attacks.
24 x 7 Manned Technical Support team are always here to help.
Do you want to reach the world in nanoseconds? Please call us at (852) 2554 7545 or please fill in the form below.
* Source: Chigyosha, "SEO 2018 Trends Observations"
---
【Well prepared for the future 】UDomain upgraded the local bandwidth to 100Gb+
This July, UDomain proudly announced that our local bandwidth has been upgraded from 40Gb to 100Gb+. We are also the sole local Cloud service provider which possess 100Gb+ local bandwidth.
Cyberattacks are becoming more complicated and diversified while the content of Cloud services is becoming more advanced and dynamic. Both require more and faster bandwidth. In order to provide the best services to our clients and to comply with our commitment to Technology development, UDomain keeps investing in our network infrastructure, upgrading the local bandwidth directly linked to HKIX to 100Gb+.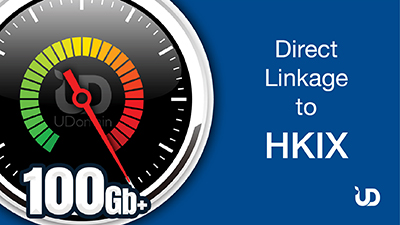 UDomain set up 1Gb local bandwidth with direct linkage to HKIX in 2008, upgraded to 10Gb in 2012 and 40Gb in 2016. Until this year, we finally exceeded 100Gb+! This is an important milestone to our growth and we would like to express our gratitude to the clients who support us all along!
A more robust network backbone means a bigger room for advancement. The upgrade this time is only a start. We promise more, better services are in the pipeline. Please stay tuned with us!