【Count Down Offer】10% discount off on SSL Certificate
Now there is only around 1 month left before Google starts labeling HTTP websites "Not Secure". In order to protect your clients and yourself, have you installed SSL Certificate to your website yet?
SSL Certificate is the most trusted security technology to encrypt browser-to-server transactions through HTTPS. It is designed to protect private data such as credit card information, password, email content, and database to database communications.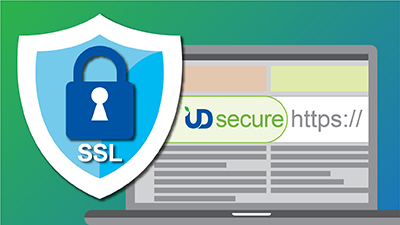 Strength of UDomain SSL Certificate
:
Confidence to your customers as your site is authentic and not phishing
Data encryption provides best protection from customer data leakage during online transactions
Google gives higher SEO ranking to websites with SSL which helps strengthen corporate image
A warranty up to US$1,500,000 liability protection.
From now till
30 June 2018
, get
10% discount off
upon application of
2-year SSL Certificate
. Call us at (852)
2554 7545
or complete the below form to apply.
---
【Cloud Expo Asia Highlight】ICP-Free CDN accelerates your China business
UDomain proudly announces that we will be showcasing in Cloud Expo Asia this year. With the theme "Smart Connect to China", we focus on providing solution to those Hong Kong or foreign based corporations which are facing difficulties in connection to China market.
Corporations which plan to build internet services in China are required to apply an ICP License from Ministry of Industry and Information Technology. The procedures are complicated and the approval time may take months. There are limitations on the background and asset requirement of the corporations. What's more, most corporations are suffering high latency induced from the limited bandwidth "outgoing" from China.
UDomain ICP-Free CDN service
is tailor made to these corporations so that they could skip the hassle from getting the ICP License while enjoying acceleration in connectivity. With UDomain's CDN nodes set in China's vicinity, network traffic jam can be avoided effectively. Real IP cannot be located which largely reduces possibilities of DDoS direct attacks. All these come up to a speedy, stable and safe website which means smart connection to China.
Cloud Expo Asia 2018
:
Date :16 - 17 May 2018 (Wednesday & Thursday)
Time : 9:15am-5:30pm (16 May), 9:30am-5:00pm (17 May)
Venue : Booth H39, Hall 5C-E, HKCEC, Hong Kong
Fee : Free of Charge
Enquiry : (852) 2554 7545
Should you require more information on ICP-Free CDN, please come visit us at Booth H39 or call (852) 2554 7545 for more details.