Exposure to a Great Quantity of Target Customers in Just 1 Min
Even for best-in-class products and services, a powerful and effective marketing tools must be adopted to reach your target customers.
According to a survey conducted by the
Data & Marketing Association (DMA)
and
Demand Metric
in June 2017, it found that email had a median Return On Investment (ROI) of 124% which is 4 times higher than social media. Surprisingly, email remains a growing, go-to channel for marketers.
Among loads of emails, how to ensure your email to be read by your recipient?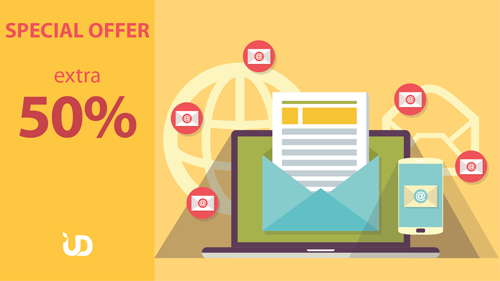 UDomain's
Email Marketing Service (UPromote)
, which design for a large number of email delivery, it adopts various
IP addresses
and dispatches your eDM in
regular time intervals
. It also provides spam score checking and improvement recommendations in order to keep your eDM out of the spam folders. In addition, UPromote requires NO installations and easy-to-use. Just a minute to send tons of eDM.
Special Offer:
From now until 12 Dec 2017, if you subscribe UPromote up to 20,000 email quota, and get extra 10,000, that is, up to 50% FREE.
Keep abreast of the highest ROI marketing tools by calling us at (852)
2554 7545
or completing below form.
---
【Working in China】Question 2: ISP can't do anything to protect you from the DDoS?
While your website is under DDoS attack, what would you do? Probably seek help from the ISP. But what if the ISP can't help?

If you want to say goodbye to DDoS and other cyber-attacks? Please pay attention to next issue of UDialogue, call us at (852) 2554 7545 or complete below form.