How Many Backups Are Enough?
Facing the rapid rise of ransomware and increasingly sophisticated cyber-attacks, backups become an important part to network security. How many backups should be kept to secure important data?
As a Managed Security Services Leader, UDomain is eager to protect clients' data and takes data security measures against risk of data loss. For the sake of clients, UDomain retains
6 full backups
at specific time intervals. In short, customer buys 1GB storage, UDomain will prepare 6 backups (i.e. 6GB) which includes 2 full copies of data yesterday, the day before and the last Sunday respectively.
Why You Need 6 Backups?
When things go wrong, such as, suffering from cyber-attacks, viruses, power failure or inadvertently deleting, you can restore the last version integrally and rapidly. Data can be transferred systematically and resume normal operation even when sudden incidents occur anytime.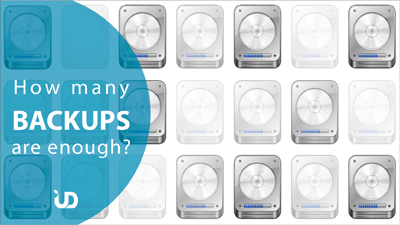 Despite multiple backups involving extra costs, UDomain insists to prepare for the worst and protects your website, email and files against the risk of losing data.
If you would like to fend off ever-changing cyber threats, please fill in below form or contact our certified security specialist at (852)
2554 7545
.
---
【Working in China】Question 1: Get the DDoS Protection and leave the Website Speed?
DDoS (Distributed Denial of Service) attacks increase in size and frequency. As a website owner, it's wise for you to develop the network security plan and subscribe DDoS mitigation service. But once you finished this step, lots of clients from China complained about the timeout and poor web speed.

Is it impossible to get the DDoS mitigation service and keep the website operating smoothly? Please pay attention to next issue of UDialogue, call us at (852) 2554 7545 or complete below form.